We invite all veterans, service members, and their families to the Tenth Annual Farm Bureau Salute to Idaho Veterans.
Friday, November 4, 2022
10:30 am – 1:00 pm
Farm Bureau Corporate Headquarters
275 Tierra Vista Drive, Pocatello, Idaho
Admission is free. Please RSVP.
The "Salute" is a prelude to the longstanding traditions that local Veterans Service Organizations have carried out each year on Veterans Day. It's also our way of saying "thank you" to our Pocatello-area veterans for their service to our country.
Please RSVP
If you would like to attend, please RSVP by October 31, 2022 to Mike Myers at (208) 239-4276 or mmyers@idfbins.com
Send Us Photos for Our Slideshow
You are also invited to submit a photo of yourself taken during active duty for our "Salute" slide show. All photos must be received by October 31, 2022.
Electronic photo files can be emailed to mmyers@idfbins.com. Photo prints should be mailed to:
Farm Bureau Insurance
ATTN: Salute to Idaho Veterans
P.O. Box 4848
Pocatello, ID 83205-4848
Mailed photos will be scanned and returned via mail within one week of their receipt.
Ninth Annual "Salute" Program
| | |
| --- | --- |
| 10:30 | Meet & Greet; Gift Presentation |
| 11:00 | Flag Ceremony |
| 11:30 | Post Colors & Recognize Attending Veterans |
| 12:05 | Guest Speaker: Brian Eisch |
| 12:45 | Group Veteran Photo |
| 1:00 | Lunch / Veteran Slideshow |
| 1:15 | Individual Complimentary Photos |
———————————————————————————————
Guest Speaker: Brian Eisch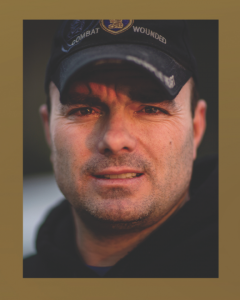 Brian Eisch began his 20-year Army career in 1992 at the age of 17. In 2010, the New York Times and Netflix began a 10-year journey following Brian throughout his deployment in Afghanistan and filming the effects it had on him and his young sons back home. While on a raid in 2010, Brian was shot three times in his legs. Though he endured debilitating pain and the eventual amputation of his leg, Brian is the first to say, "this is not the worst thing that ever happened to me."
Brian's numerous awards and decorations include the Bronze Star for Valor and the Purple Heart.
Presented by:
Farm Bureau Mutual Insurance Company of Idaho
Idaho Farm Bureau Financial Services