We invite all veterans, servicemembers, and their families to the Seventh Annual Farm Bureau Salute to Idaho Veterans.
The "Salute" is a prelude to the longstanding traditions that local Veterans Service Organizations have carried out each year on Veterans Day. It's also our way of saying "thank you" to our Pocatello-area veterans for their service to our country.
---
Please RSVP
If you would like to attend, please RSVP by October 31, 2016 to Peggy Sorensen at (208) 239-4201 or psorensen@idfbins.com.
---
Send Us Photos for Our Slideshow
You are also invited to submit a photo of yourself taken during active duty for our "Salute" slide show. All photos must be received by October 31, 2017.
Electronic photo files can be emailed to psorensen@idfbins.com. Photo prints should be mailed to:
Farm Bureau Insurance
ATTN: Salute to Idaho Veterans
P.O. Box 4848
Pocatello, ID 83205-4848
Mailed photos will be scanned and returned via mail within one week of their receipt.
---
Seventh Annual "Salute" Program
| | |
| --- | --- |
| 10:30 | Meet & Greet; Gift Presentation |
| 11:00 | Flag Ceremony |
| 11:30 | Post Colors & Recognize Attending Veterans |
| 12:05 | Guest Speaker: The Honorable Dan Eismann |
| 12:25 | Luncheon |
| 12:40 | "Salute to Idaho Veterans" Slideshow |
| 1:20 | Complimentary Photos |
---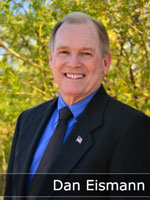 Guest Speaker:
The Honorable
Dan Eismann
Caldwell native Dan Eismann left his studies at the University of Idaho in 1967 to enlist in the United States Army. He served two consecutive tours of duty in Vietnam where, as a crew chief/door gunner on a Huey gunship, he was awarded two purple hearts for being wounded in combat and three medals for heroism.
After an honorable discharge, he returned to the University of Idaho where he earned his undergraduate and law degrees. The Honorable Dan Eismann was elected by the people of Idaho to the Idaho Supreme Court in 2000.
---
Presented by:
Farm Bureau Mutual Insurance Company of Idaho
Idaho Farm Bureau Financial Services