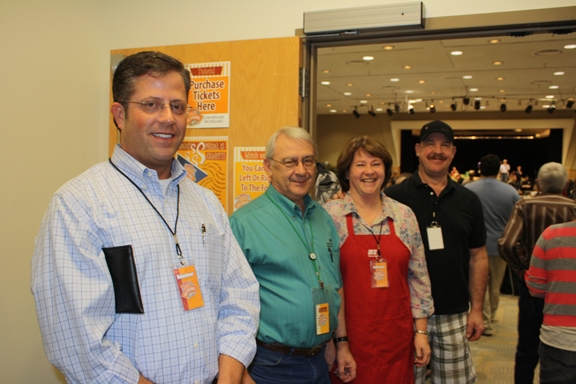 Above: Farm Bureau Mutual Insurance Company of Idaho employees greet Potato Bowl attendees at the door.
Every year attendees of the Great Potato Bowl Plus are asked to vote for their favorite food item. The votes have been counted and the 2012 winning establishments are: Kowloon Express-Best Overall, Elmer's-Best Side Dish, Mama Inez-Best Entrée, Texas Roadhouse-Best Potato Dish, Ruby Tuesday-Best Non-Potato Dish, Cooking Dutch-Best Dessert, The Bridge-Best Soup, Buddy's-Best Green Salad, and Perkins-Best Salad.
In addition to the winners, other restaurants and organizations that generously participated in this year's Eighth Annual Great Potato Bowl Plus held on March 19 include: Anderson Custom Pack, Café Tuscano, Costco, Frog Hollow, Marigold's, The Popcorn Shop, The Sand Trap, Starbucks, Uncle Jim's, and Wing-N-Diner. The United Dairymen of Idaho donated 1,000 cartoons of milk and GPOD of Idaho in Shelley donated over 1,500 pounds of Russet Burbank potatoes for the event.
All proceeds benefited the Idaho Foodbank and Family Services Alliance.